// GARAGE STORAGE SIMPLIFIED
Iowa City has never had it easier.
CONSULTATION
IT'S TIME TO GET ORGANIZED.
CONSULTATION
IT'S TIME TO GET ORGANIZED.
SPACE SAVING GARAGE STORAGE IN IOWA CITY
At Garage Mahal, we are experts in all things garage storage. If you're looking for a way to get your garage organized, we offer the best garage storage Iowa City has. We can help you expand the space in your garage and solve your garage storage issues!
QUALITY GARAGE STORAGE IOWA CITY HOMEOWNERS LOVE
We can help you create a custom garage storage plan that works perfectly with your budget and storage needs. Our trained professionals will do all the installation work for you and even help you organize your garage once your storage system is installed.
Long Lasting and Durable: Our top of the line product saves you time and money.
Made from quality materials, our garage storage is built to last so one system is all you will ever need.
Reclaim Your Space: Our systems are designed to effortlessly store all of your items in a limited amount of space. Find a place for all of your storage boxes, sports items, gardening tools and more with our garage storage systems. You'll finally be able to park your car in the garage!
Versatile: Your garage storage needs are likely to change over time. Our products are versatile so you can add on to your system at any point in time.
Call Garage Mahal to get started on your custom garage storage in Iowa City!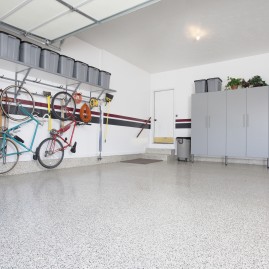 We are loving the new shelves that were put up in our garage. It looks great and so far has held up nicely even though I have… Read more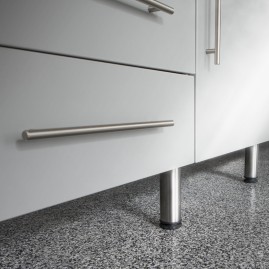 Amazing! I've seen other people DIY their own garage floors and they end up looking horrible. This is why hiring a profession… Read more
OUR STORAGE PRODUCTS
Garage Shelving:
Our shelving is the perfect way to quickly get your garage organized. Store up to 1,000 lbs worth of storage in every 4 ft of shelving. Use our hook and bar system to layer items underneath for even more storage.
Garage Cabinets:
Choose from 14 sleek color options and keep items out of site with our garage cabinets. Store harmful chemicals locked away and out of reach from children.
Overhead Garage Storage:
Store even more with our overhead garage racks! Our racks have a 2" safety lip to ensure that your items stay in place.
Garage Flooring:
Add a touch of class and beauty to your garage with our epoxy coatings and floor tiles.
FREE ESTIMATE