// MOTORIZED OR FIXED RACKS
Durable racks with or without the use of a ladder.

// ABOVE THE COMPETITION
Store with confidence with industry leading weight capacity.

// OUT OF SIGHT, OUT OF MIND
Store rarely used items up high and out of the way.
CONSULTATION
IT'S TIME TO GET ORGANIZED.
CONSULTATION
IT'S TIME TO GET ORGANIZED.


OVERHEAD GARAGE STORAGE CEDAR RAPIDS HAS BEEN WAITING FOR
The solution to your crowded garage is here. Our overhead garage storage in Cedar Rapids is strong, out of the way, and perfect for anyone wanting to clear up some floor space. We want you to enjoy your garage, and an organized, open garage creates a happier atmosphere.
//
MORE AVAILABLE SPACE
Using the space above your car clears up a lot of floor space. You'll be able to park and work on projects with more room to breathe.
//
PERFECT LONG TERM STORAGE
If you know you won't be using something for a while, this is the perfect solution. Ours is the overhead garage storage Cedar Rapids families trust with their seasonal storage.
// DEPENDABLE

Our overhead garage storage racks are strong enough to hold up to 1,000 lbs of storage. They'll be able to handle your storage without a problem.

SAFETY LIP
2" lip securely holds all of your storage in its place
CUSTOMIZABLE
Racks can be combined for greater storage capacity

MOTORIZED OPTION
Skip the ladder and load your racks from the ground level
PROFESSIONAL INSTALL
Authorized dealers ensure a proper installation
// MOTORIZED SOLUTIONS MADE EASY
Motorized garage storage lifts add convenience and safety to your garage storage system! Our motorized overhead racks are controlled with four Bluetooth motors connected to your smartphone. Accessing your overhead storage has never been easier!
You can easily load your storage and lift it out of sight without the use of a ladder. Check out the garage storage lift Cedar Rapids homeowners love!
• Manufactured in the U.S.A.
• Controlled with your smartphone
• 350lb storage capacity
• Lifetime warranty
THE BEST OVERHEAD GARAGE STORAGE IN CEDAR RAPIDS
Custom Design: We know that no two garages are the same. That's why your overhead garage storage system will be custom fit to your garage and your needs.
Easy Access: The design of our overhead racks includes an open base track, which allows you to move and reorganize your storage items easily from underneath.
Safety Lip: Don't worry about your storage tumbling over the edge of the rack. The 2" lip goes all the way around the rack to keep everything secure.
Fast Installation: Once you've made the decision to have our overhead garage storage racks in your home, we won't make you wait long. Our professional installation is quick and dependable.
We're available to talk you through any questions you have about our overhead garage storage in Cedar Rapids. We even offer free quotes! Give us a call today.
FREE ESTIMATE

Doug was so helpful and able to indentify the problem quickly. Doug also followed though on everything that he said after se… Read more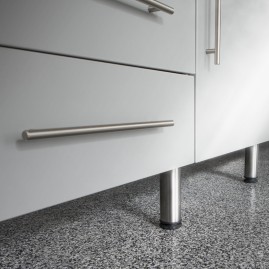 Amazing! I've seen other people DIY their own garage floors and they end up looking horrible. This is why hiring a profession… Read more
HIGHLIGHTS
Stable:
Our overhead storage racks are made from the strongest, most reliable materials,
providing you with a quality, safe storage solution.

Affordable:
Our storage solutions are a great investment. They don't break the bank, and are guaranteed to be worth every penny.
Adjustable:
Our overhead racks are easily adjusted and flexible. Directions of racks can change according to what makes it easiest for you to access your storage
Call us today! We've taken overhead garage storage in Cedar Rapids to new heights.
//

AS SEEN ON
If you're ready to clear up some space in your garage, and create an organized room, our overhead garage storage is just what you need to get started.

It's more than storage.
It's your life.™
OVERHEAD SOLUTIONS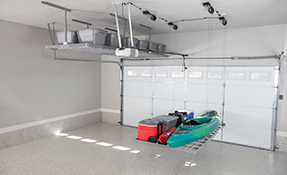 Bluetooth motors can raise and lower the platform using your smartphone.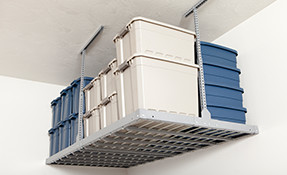 Wall mounted racks can hold up to 1,000 pounds per rack.
Each 8' rack can be combined with more racks to form even larger platforms.
Made from industrial grade steel, these racks can handle anything.
Get your bikes and other accessories off the floor with Bluetooth motors.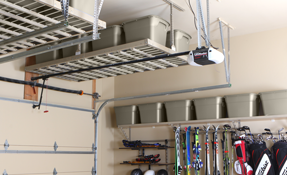 Overhead racks come in Granite Gray and Desert Stone to match your Monkey Bars Shelving System.