// DURABLE TILES
Change the look of your garage for years to come.

// RIBTRAX FLOORING
Vented floors that are easy to clean and easy on the eyes.

// MULTIPLE STYLES & COLORS
Pick the colors and styles to enhance the look of any car.
CONSULTATION
IT'S TIME TO GET ORGANIZED.
CONSULTATION
IT'S TIME TO GET ORGANIZED.
GARAGE FLOOR TILES IN CEDAR RAPIDS
Give your garage an upgrade with garage floor tiles Cedar Rapids residents love. Our premium tiles are durable, functional and will add beauty and character to your garage. Don't settle for cracked, stained garage floors. Transform your garage floors with our garage floor tiles!
// CUSTOM
GARAGE FLOORS
We offer a variety of colors and 5 different styles to choose from. Easily design the garage floor you've always wanted with our garage floor tiles.
We guarantee that you will be satisfied with our product but to make you feel even more confident, we've backed our tiles with a 15-year warranty.
Made from polymer, our tiles are durable and built to last and won't bend or curl over time.

15 YEAR WARRANTY
Our garage tiles can handle years of abuse

CUSTOM DESIGNS
With 5 designs and 19 colors, any design is possible
SLIP RESISTANT
Tiles are slip resistant even when wet
PROFESSIONAL INSTALL
Authorized dealers to ensure a proper installation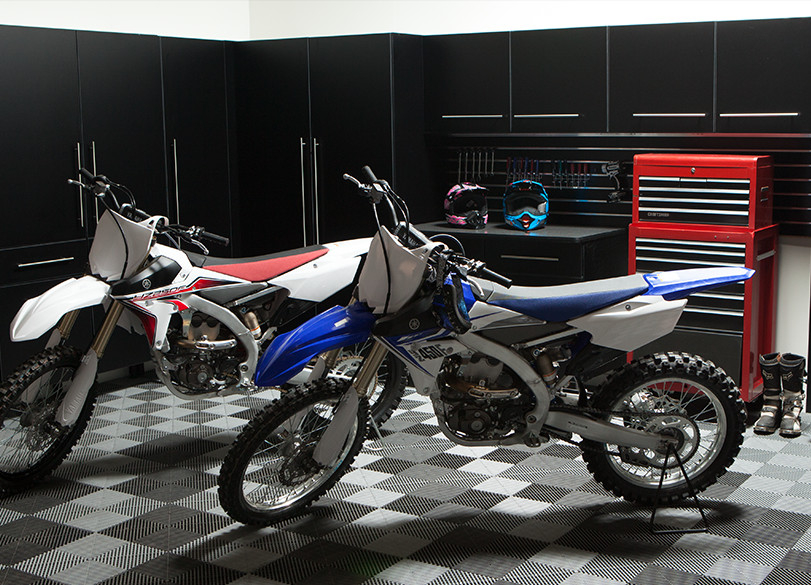 #1 GARAGE FLOOR TILES IN CEDAR RAPIDS
It's time to revamp your garage floor and we promise you won't look back. Your new garage floor will be the talk of the neighborhood.
UV Resistant: Our tiles are UV resistant so you don't have to worry about them fading or discoloring when exposed to direct sunlight.
Tough and Durable:
Each tile has up to 24 connections for a tighter, stronger fit.
Rest assured knowing that your garage floor tiles won't break under pressure.
Our tiles can hold up to 75,000 pounds of roll-over strength.
Easy To Clean: Easily clean these low maintenance floors with a rag and cleaner. Our tiles are designed with channels underneath to allow water and sediment to easily pass through. They are also chemical, water, and oil resistant.
For quality garage floor tiles in Cedar Rapids, give Garage Mahal a call today!
FREE ESTIMATE

Doug was so helpful and able to indentify the problem quickly. Doug also followed though on everything that he said after se… Read more
A GARAGE FLOOR YOU'LL BE PROUD OF
Versatile: Garages are not the only space our tiles work great in. Use them in showrooms, workout rooms, and patios too.
Aesthetically Pleasing: With garage floor tiles you can easily cover up those pesky stains, cracks, and chips in the pavement
Non-warping: Our tiles are thicker than most. They won't curl or warp thanks to our innovative 4-point injection molding technology.
Professional Installation: Our professionals will do all the work for you! Your garage floor will be finished and ready for use in no time. Installations typically only take a few hours.
// AS SEEN ON
Let us help you get started on your garage transformation today. Contact Garage Mahal for a free estimate today!

It's more than storage.
It's your life.™