//GARAGE STORAGE SIMPLIFIED
Mount Vernon has never had it easier.
CONSULTATION
IT'S TIME TO GET ORGANIZED.
CONSULTATION
IT'S TIME TO GET ORGANIZED.
QUALITY GARAGE STORAGE MOUNT VERNON WANTS
Finding a solution for garage storage in Mount Vernon that will actually work and hold up after years of use is hard to do. Who has time to visit multiple home improvement stores to search for a solution to fit their unique storage needs and spaces? Our trained professionals handle that for you! We visit your home to assess your storage needs and available space and create a storage plan to fit. We have a variety of storage products that make garage storage a breeze.
BENEFITS OF OUR GARAGE STORAGE IN MOUNT VERNON
Our custom products for garage storage in Mount Vernon are built with top-of-the-line materials to ensure longevity and durability. No one wants to repeatedly replace storage products in the garage!
Powder Coated: Don't worry about rust or scratches with our powder-coated garage shelving. We understand that life can get hectic and messy so we wanted to give our customers a product resistant to scratches and rust.
Strength: Easily store your items on our products. Our shelves and overhead racks hold up to 1,000 lbs while the shelves inside our cabinets can hold up to 100 lbs.
Professional Installation: You're busy with kids, work and play. Let us handle all of the installation so you can get back to the activities you enjoy!
Custom Solutions: Not every homeowner needs the same plan for garage storage. We are able to create custom solutions for your garage using our custom cabinets, shelving or overhead racks.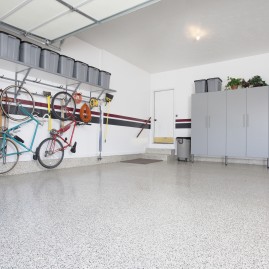 We are loving the new shelves that were put up in our garage. It looks great and so far has held up nicely even though I have… Read more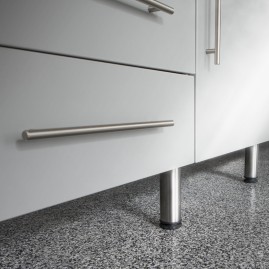 Amazing! I've seen other people DIY their own garage floors and they end up looking horrible. This is why hiring a profession… Read more
SOLUTIONS MADE EASY
Garage Shelving:
Easily move the bars and hooks beneath our shelves to create more or less storage space.
Garage Cabinets:
Some items, like expensive power tools, are better kept behind closed doors. Our sleek cabinet options will keep your garage organized and secure.
Overhead Garage Storage:
Not all items need to be stored within reach all the time. Holiday decorations, long-term storage items, and seasonal items can be stored safely out of the way until you need them on our strong overhead storage racks.
Garage Flooring:
Transform your garage with a new floor. Choose from a variety of colors and patterns to create a truly unique floor that you'll want to show off to your friends.
FREE ESTIMATE