//
GARAGE STORAGE SIMPLIFIED
North Liberty has never had it easier.
CONSULTATION
IT'S TIME TO GET ORGANIZED.
CONSULTATION
IT'S TIME TO GET ORGANIZED.
EASY GARAGE STORAGE NORTH LIBERTY HOMEOWNERS WANT
Many homeowners find that their garage has become so cluttered with boxes, bins, tools and toys that they can't even park the family vehicle inside anymore. Does that sound familiar? We can help. Our products for garage storage in North Liberty are perfect for the busy homeowner. These products make it possible to keep frequently-used items within arm's reach while storing those bulkier, less frequently-used items up high.
TAILORED TO YOU
One-size-fits-all storage solutions rarely work. We create custom plans for garage storage in North Liberty. Our products are industrial-grade and are built to resist the bumps of life.
Maximized Space: Our products make it possible to store more in less space through the use of layering. By hanging items from the hooks, you can easily grab what you need without moving items out of the way.
UV Stable: It's normal for garage floors to become exposed to direct sunlight. Our flooring options are built to withstand UV rays so your floor won't fade or yellow from exposure to direct sunlight.
Free Estimates: Sometimes our clients are unsure of what products they need for an organized garage. Our trained professionals visit the homes of our clients to help create the perfect plan for garage storage in North Liberty, free of charge.
Durable: Don't worry about ruining your storage products our products are built to resist water, rust and stains.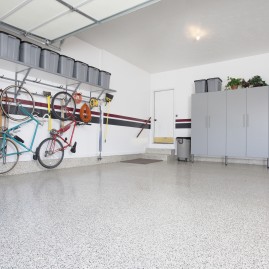 We are loving the new shelves that were put up in our garage. It looks great and so far has held up nicely even though I have… Read more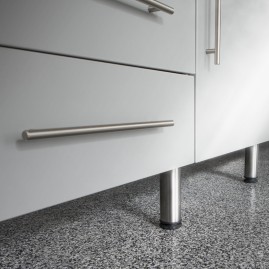 Amazing! I've seen other people DIY their own garage floors and they end up looking horrible. This is why hiring a profession… Read more
TOUGH STORAGE PRODUCTS
Garage Shelving:
Don't worry about these shelves bowing or breaking, you can safely store up to 1,000lbs on every 4 feet.
Garage Cabinets:
Not thrilled about everyone seeing your things in the garage? With garage cabinets, you can easily store your items safely behind closed doors. Cabinets can give your garage a truly cohesive look.
Garage Flooring:
The garage floor is the most overlooked aspect of the garage. Give your floor a little love with a custom garage floor. We carry a variety of colors and patterns for a unique finish.
FREE ESTIMATE