//
GARAGE STORAGE SIMPLIFIED
Coralville has never had it easier.
CONSULTATION
IT'S TIME TO GET ORGANIZED.
CONSULTATION
IT'S TIME TO GET ORGANIZED.
INNOVATIVE GARAGE STORAGE IN CORALVILLE
The garage is just like any other part of the home, it's a space that needs to be livable and functional. Despite this, cluttered garages are a big problem for most homeowners. This is where Garage Mahal comes in. We provide customized organization plans and system installation so your garage can fit your vehicles and easily organize your belongings. It's time to stop feeling like your lifestyle is constrained to what you can store. Get garage storage in Coralville built for your needs!
THE MONKEY BARS ADVANTAGE
Monkey Bars shelves are made to store 3x more in the same amount of space as other systems. Get the most efficient garage storage in Coralville and make clutter a thing of the past.
Steel Durability: Shelving and racks are constructed with powder-coated steel and hold 1,000 pounds every 4 feet. Our cabinets are made with a laminate and melamine combination to withstand extreme temperatures and water and store more.
Accessible: Organization should make your life easier. Our revolutionary bar and hook system on our shelving makes items easy for you to grab and go.
Custom Built: We understand that one size doesn't fit all when it comes to your storage. All of our systems are custom made to fit your space and budget so you don't have to pay for more than you need. During estimation, we will work with you to develop the best combination of products for your needs.
Lifetime Warranty: Monkey Bars shelves are built to last forever. We offer a lifetime warranty on our systems to ensure we stick to our promise of quality.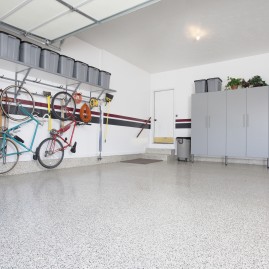 We are loving the new shelves that were put up in our garage. It looks great and so far has held up nicely even though I have… Read more
STORAGE SOLUTIONS
Garage Shelving:
Monkey Bars offers tons of flexible options to maximize your short-term and long-term storage all in one system.
Garage Cabinets:
Lockable cabinets to secure your belongings and eliminate clutter completely.
Garage Flooring:
Complete your garage transformation with epoxy floor coatings and floor tiles to make your garage your very own show room.
Get the garage storage Coralville homeowners love. Schedule your free estimate today to get started!
FREE ESTIMATE