//
GARAGE STORAGE SIMPLIFIED
Marion has never had it easier.
CONSULTATION
IT'S TIME TO GET ORGANIZED.
CONSULTATION
IT'S TIME TO GET ORGANIZED.
MAXIMIZED GARAGE STORAGE
MARION
LOVES
We specialize in garage organization and garage storage that lift your things up off the floor. Our garage storage system will provide different ways to neatly store your things. Safely stack, move and rotate your items with ease. Our garage storage is made to hold your heaviest prized possessions.
We have the versatile garage storage Marion residents want.
UTILIZE EXTRA STORAGE SPACE
Our professionals will help you utilize the most of your storage space. They will handle everything from estimate to installation.
Long & Short Term Storage:
Our garage storage in Marion provides multiple storage options. Store less frequently used items above and everyday items below.
Recover Valuable Floor Space: With excess floor space you can store vehicles and work on projects that require a lot of room.
Tough & Reliable Storage: Our garage storage system will hold and secure all of your things. Frequent use won't cause wear and tear.
Affordable Storage: With garage storage in Marion you can store more for less. In half the space provided by other storage options.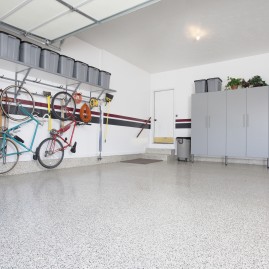 We are loving the new shelves that were put up in our garage. It looks great and so far has held up nicely even though I have… Read more
STORAGE OPTIONS
Garage Shelving:
Can easily double the size of your storage space by hanging items below, behind each other and stacking items above.
Garage Cabinets:
Our cabinets can hide your items to give your garage a flawless look everyone will appreciate. With customizable dimensions, they can be fitted anywhere.
Overhead Garage Storage:
Our racks are capable of holding up to 1,000 pounds of weight. Making it a great place to store heavy nonessential everyday items.
Garage Flooring:
Transform your garage into the ultimate workshop with a clean, professional garage floor. Style and color your flooring to match the rest of your garage.
FREE ESTIMATE